Skip to Content
Encinitas, CA Golf Course
Encinitas Ranch


Golf Course

Encinitas Ranch Golf Course is credited for never having a frost delay due to its beautiful coastal setting. A proud recipient of the prestigious 2021 Course of the Year Award by the California Golf Course Owners Association (CGCOA), Encinitas appeals to golfers who appreciate its many golf amenities – such as five sets of tees, wide open fairways, and bunkers. 
Amenities &

Facilities
Extensive putting green
20+-bay driving range
Unique putting course is the only one of its kind in San Diego. Complete with two sets of challenges, the course features an easy set and a harder set.
Indoor/outdoor Ranch Grill clubhouse restaurant with a superb menu, charming fireplace, and ocean views
Complete Golf Shop with the latest golf equipment and golf apparel
Golf instruction and Golf clinics offered by PGA & LPGA professionals
Amenities &

Facilities
Golf Tournament services with dedicated outing coordinator on site
For water conservation, on-site weather stations measure daily ET (evapotranspiration) and high-tech moisture meters on greens provide exact green watering needs.
Greens, Fairways, and Tees: 100% reclaimed water.
| | | | |
| --- | --- | --- | --- |
| Membership Type | Weekday | Friday | Weekend, Holiday |
| Public | $95 | $100 | $115 |
| Resident | $65 | $73 | $83 |
| SoCal Resident | $90 | $95 | $110 |
| JC Players | $70 | $78 | $88 |
| JC 20/30 Club | $20 | $30 | $30 |
| Jr. Public | $35 | $35 | $40 |
| JC Junior | $20 | $20 | $25 |
| Twilight | $52 | $60 | $66 |
RATES INCLUDE CART EXCEPT FOR THE JC 20/30 CLUB AND JC JUNIOR RATES. CART FEE REQUIRED FOR JC 20/30 CLUB.
ALL RATES SUBJECT TO CHANGE.
FOR SINGLE BOOKINGS AND CLUB RENTALS, CONTACT 760-944-1936 FOR AVAILABILITY.
FOR GROUPS OF 16 PLAYERS OR MORE, CONTACT 760-944-1936 FOR RATES.
SPECTATOR FEES - $15
TWILIGHT DOES NOT GUARANTEE 18 HOLES.
Ranch

Grill

Complementing Encinitas Ranch Golf Course is the clubhouse. Its 6,000 square feet are home to a full bar and café that serves a delicious menu. The clubhouse expands into an adjoining patio with ocean views and a charming stone fireplace to create an ideal venue for small golf course weddings, banquets, business meetings, networking groups, corporate off-sites, birthdays, showers and other special events. For specials and events, contact Kim LeBeck at (760) 944-1936 or klebeck@jcresorts.com.
JC Players

Card Program

Save every time you play with San Diego golf deals and discounts. Offering cardholders free rounds of golf and discounted green fees at the area's finest golf courses, the JC Players Card program is San Diego's best golf value.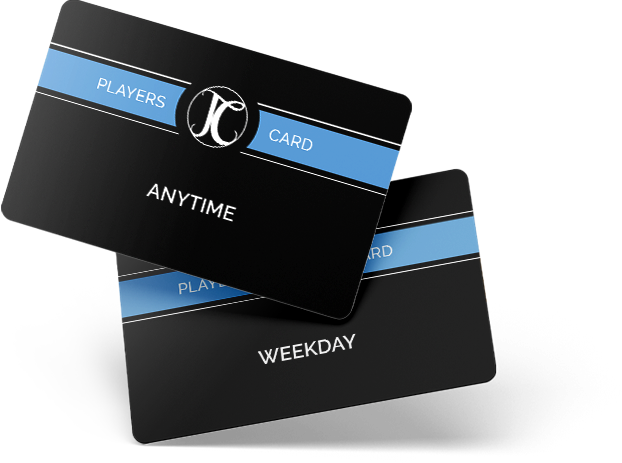 Practice

Center

Encinitas Ranch has become a destination for learning. Golfers have the option to practice their short game on the extensive putting green and their long game at the 20+-bay driving range. The driving range and practice center at Encinitas Ranch is open to the public. Range balls can be purchased in the pro shop. Call the pro shop at (760) 944-1936 for current operating hours.
Putting

Course

The unique putting course is the only one of its kind in San Diego. Complete with two sets of challenges, the course features an easy set and a harder set. Each set includes six holes so if you play both sets, you get in twelve holes. It features a windmill and benches around the greens where you can watch your friends putt and take in views of the Pacific Ocean.
Lessons &

Camps
Summer Camps
Summer golf camp for kids of all skill levels is available at Encinitas Ranch Golf Course. For more information and a complete schedule, visit Junior Camps or call our pro shop (760) 944-1936.
Lessons &

Camps
JC Junior Golf Program
From the fundamentals of the golf swing to the rules of the game, JC Junior Golf is the stepping-stone for our up-and-coming golfers. JC Golf's Junior Golf Program includes lessons, clinics, camps, leagues, and a beginner golf tour that provide a foundation for kids to enjoy golf for years to come.
Resident


Program

Learn more about the new ID verification for Residents.
Book a

Tournament

A stunning location for golf tournaments, the magnificent bluffs at Encinitas Ranch overlook the ocean and large, accommodating amenities include an indoor-outdoor clubhouse, driving range, putting green and ample outdoor staging areas for large groups. 
Men's &

Women's Clubs
Encinitas Ranch
Men's Golf

Club

Established in 1998 when Encinitas Ranch opened, The Men's Golf Club has more than 550 "Regular Members" eligible for full participation in club events and over 800 "Associate Members" who identify Encinitas Ranch as their home course for purposes of maintaining their GHIN handicap indexes.
Men's &

Women's Clubs
Encinitas Ranch
Women's Golf

Club

The Encinitas Ranch Women's Golf Club (ERWGC) is an organization of approximately 150 golf-friendly women who enjoy playing golf on Tuesday mornings. Our tee times range from approximately 7:30 a.m. to 10:00 a.m. and we generally have 50-60 players on any given Tuesday. We have members of all skill levels and a great diversity of ages, backgrounds, and professions.
Gift

Cards

Gift cards are available in the Pro Shop or clicking below for easy online ordering.