Skip to Content
Amenities &

Facilities
Two golf courses to choose from – the Oaks Course and the Fountains Course
Fountains 19 Patio and 9th Hole Snack Shop
Golf Tournament services with dedicated outing coordinator on site
Professional Golf Instruction and Clinics offered
The Welk features the Canyon Grille, Welk Theatre, weekly Farmer's Markets and resort accommodations.
Amenities &

Facilities
Alternative sports including footgolf and FlingGolf on The Oaks course
Practice putting green
Complete Golf Shop with the latest Golf Equipment and Golf Apparel
Happy Hour specials, craft beers on tap, and patio seating at the Golf Shop
Fountains Course
Membership Type
Weekday
Weekend
Public
$52
$56
Owner/Resort Guest
$47
$51
JC Players
$42
$46
Early Bird
$42
$46

Twilight

Public: 1pm (DST)
JC Players: 12:30pm (DST)

$42
$46

Super Twilight

Public: 4 pm (DST)
JC Players: 3:30 pm (DST)

$34
$35
JC 20/30 Club
$20
$30
Jr. Public
$22
$24
JC Junior
$15
$19
Oaks Course
Membership Type

Weekday

Weekend

Public

$24

$24

Owner/Resort Guest

$22

$22

JC Players

$19

$19

Early Bird

$19

$19

Twilight

Public: 1pm (DST)
JC Players: 12:30pm (DST)

$19

$19

Super Twilight

Public: 4 pm (DST)
JC Players: 3:30 pm (DST)

$16

$16

JC Jr. Players

$15

$18

FootGolf

$16

$16

FootGolf Jr. 

$11

$11

DiscGolf/FlingGolf

$15

$18
RATES DO NOT INCLUDE GOLF CARTS; CARTS BASED ON AVAILABILITY.
ALL RATES SUBJECT TO CHANGE.
FOR SINGLE BOOKINGS AND CLUB RENTALS, CONTACT 760-749-3225 FOR AVAILABILITY.
FOR GROUPS OF 16 PLAYERS OR MORE, CONTACT 760-749-3225 FOR RATES.
SPECTATOR FEES - FOUNTAINS $13; OAKS $10
TWILIGHT DOES NOT GUARANTEE 18 HOLES. SUPER TWILIGHT DOES NOT GUARANTEE 9 HOLES.

Book a

Tournament

Offering a variety of formats such as match play, best-ball or scramble, The Welk is the perfect destination for your next golf event. Both its Fountains and Oaks courses offer options for every skill level. For added challenge and fun, The Oaks course even features a footgolf course – great for corporate team building! The full-service Tournaments Team at The Welk will help you plan a successful and fun event.

Steve Poling | First Assistant/Tournament Sales Director
Call: (760) 749-3225 x 22173
Email: spoling@jcresorts.com
JC Players

Card Program

Save every time you play with San Diego golf deals and discounts. Offering cardholders free rounds of golf and discounted green fees at the area's finest golf courses, the JC Players Card program is San Diego's best golf value.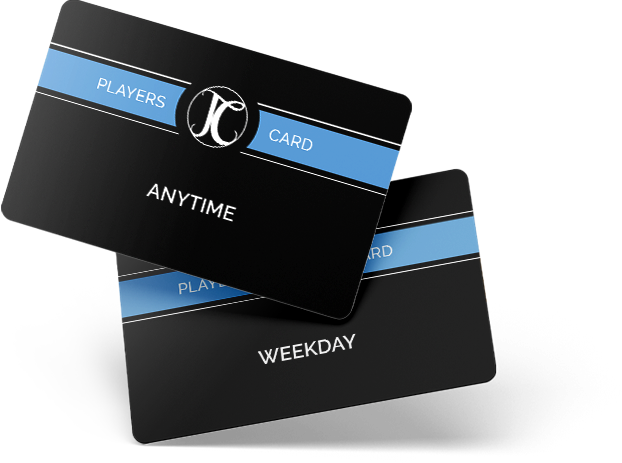 Golf

Alternatives
FlingGolf
FlingGolf is a fun sport that includes skills similar to lacrosse, baseball, and hockey. To hit the greens, it requires only one club (a FlingStick™) and a golf ball.
FlingGolf Tee Times at Welk – the Oaks Course – (760) 749-3225
Golf

Alternatives
FootGolf
It's not soccer, it's not golf, it's hybrid footgolf! Come out for a fun game of footgolf with friends and family!
Book a footgolf tee time, just like a golf round, or call the pro shop for assistance.
Footgolf Tee Times at Welk – the Oaks Course – (760) 749-3225
Golf

Alternatives
Disc Golf
Play the new 18-hole, par-3 disc golf course on The Oaks course at The Welk! Designed to complement the natural terrain of north Escondido, the greens, water features and course turns create a fun, challenging disc-throwing experience.
Frequent Player

Cards
Fab Five Card
The Fab Five Card allows you to play for less than $14.80/round! The card includes 5 rounds of golf or footgolf at Welk's Oaks Course! For just $74, the Fab Five Card expires 1 year after the date of purchase.
Frequent Player

Cards
The Beginners Package
The Beginners Package includes 18 holes of golf on the Oaks Course, Rental Clubs and Pull Cart, and a sleeve of golf balls and tees for just $40.
Frequent Player

Cards
Fountains 3-Pack
The Fountains 3-Pack includes 3 rounds of golf on the Fountains Course, cart for $126, and a $42/round value!
Lessons &

Camps
Course Lessons
Join us for some fun and learn a sport you can play at any age or improve your game with our private lessons.
Call the Pro Shop, (760) 749-3225 for more information.
Lessons &

Camps
Play With A Pro Lesson
Play 9 holes with a PGA Professional and receive tips, drills, and strategies!
Lessons &

Camps
JC Junior Golf Program
From the fundamentals of the golf swing to the rules of the game, JC Junior Golf is the stepping stone for up-and-coming golfers. JC Golf's Junior Golf Program includes lessons, clinics, camps, leagues, and a beginner golf tour that provides a foundation for kids to enjoy golf for years to come.
Lessons &

Camps
Nike Summer Camps
Summer golf camp for kids of all skill levels is available at The Welk.
Fountains 19

Patio

Fountains 19 Patio is located behind the 18th green of the Oaks Course, situated perfectly under two mature oak trees giving plenty of shade all day. Order from the Pro Shop Drinks & Snacks Menu or order takeout* at the 9th Hole Snack Shack or Canyon Grill and bring back to the Fountains 19 Patio and enjoy.

Open 7 days a week.

*Staff is available to pick up to-go orders based on availability.
Men's &

Women's Clubs
Men's Club
Play Low Net and Low Gross games, Skills Contests Closest to the Pin, in Individual and Team events, with Handicaps and Equitable Flights on both the Fountains and Oaks Courses.
Call the Pro Shop at (760) 749-3225 or email uhlhouse@cox.net to sign up today!
Men's &

Women's Clubs
Women's Club
Meet every Wednesday for an 8am start time and play 18 holes on The Fountains course. Breakfast is served at the turn and discounts are provided for drinks and pro shop merchandise.