Skip to Content
California FlingGolf
Fling

Golf

Come play California FlingGolf™! This fun new alternative sport is perfect for all ages and skill levels. Play now at the Oaks Course at The Welk in Escondido.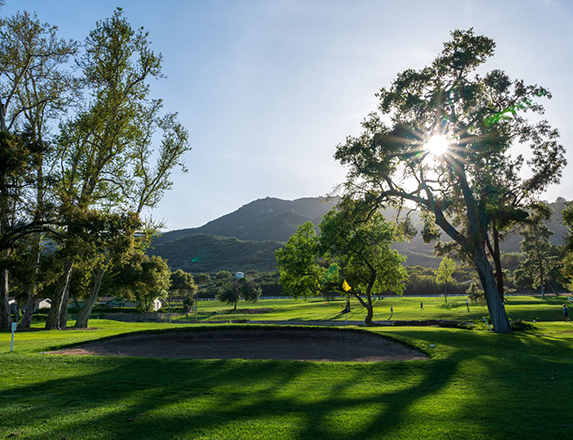 Rates
Weekday: $15
Weekend: $20
FlingStick Rental: $5
Cart: $10 per person
How To

Play

FlingGolf is a fun sport that requires only one club (a FlingStick™) and can be played at a much faster pace than regular golf. You start on the Teeing Ground and throw your golf ball down the fairway in a lacrosse or baseball style motion. You continue throwing the golf ball from each spot that your ball rests until you have made it to the green. Once on the green, you can use the FlingStick™ as a putter with a Hockey style motion.

Read More
Equipment: With your FlingStick and ball ready to go, head to the tee.
Fling Techniques: There is no wrong way to fling it so make your own techniques or try out the overhead, sidearm, low-to-high, flop shot from behind your back or the sideways bump and run.
Scoring: Count your flings from tee to hole.
Tee Shots: Throw your ball from behind the tee marker towards the flag. It is ok to take steps while flinging the ball.
Mid-Shots: Mark your ball where it lies and throw your ball from behind the mark.
On-the-Green Shots: Place the ball in the putting notch on the side of the FlingStick™ head, place your feet in position, and push the ball toward the hole. You may not move your feet while pushing. You may also mark the ball, place it in the FlingStick™ channel, and roll it toward the hole.
Penalties: If your ball lands in a sand bunker, water hazard, goes out of bounds or gets lost, take a 1-stroke penalty.
Sand Bunker: Remove your ball from the bunker and retreat up to 5 paces from the bunker along the line your ball traveled into the bunker. Fling your ball before reaching the bunker.
Water Hazards, Out of Bounds or Lost Ball: Retreat up to 5 paces back from where the ball went into the hazard, out of bounds or area where it was lost, then fling the ball before you reach the hazard, out of bounds or lost area.
Groups
Do you have a team event or corporate off-site coming up? Plan a FlingGolf game and after-party! Our experts will help you plan a fun, active event geared towards bringing people together for a good time.
Read More
Request Information
Yes, even in the same foursome.
No, a standard golf ball is all you need.
Far, really far, or really really far. Over 100 yards within 5 minutes of using your FlingStick, but with some practice, strength, and skill, over 200 yards is certainly on the table. Hard-core athletes have been known to bomb it 250+ yards.
Very. Compared to an average golf shot, you will generally find it much easier to keep your FlingShots straight and on the fairway.
FlingGolfers tend to play quicker than traditional golfers, especially beginners.
Yes. For maximum distance, it's actually essential. Take a few steps back from where the ball lies and release the ball before reaching this spot.
Kids 6 and up with an adult can play.
FlingGolf is available every day during normal course hours. Please call Welk Resorts San Diego's Golf Course (760) 749-3225 to make a reservation!
Yes, you can book a FlingGolf tee time just like a golf tee time. Pricing will be adjusted at check-in. Choose a time slot that works for you.